Partnership Renewal
Partnership renewal for July 2023- June 2024 is available now with payment due no later than July 31, 2023.
Community Partnership: $300 for all organizations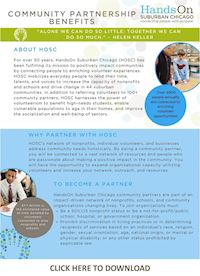 Click Here to Pay Renewal Online Today
Qualify for a Scholarship
Through the support of AmeriCorps we can offer scholarships for complimentary membership. To be eligible, you need to:
Have at least three active opportunities
Complete an annual partner survey
Interested in applying for a scholarship? Contact Sarah.
Community Partnership Benefits
Access to HandsOn Connect: HOSC's proprietary online database where people have access to hundreds of unique volunteer opportunities 24/7/365.
Support: HOSC staff appreciates the critical need volunteer support provides for community partners and we are here to help.
Digital Marketing: HOSC promotes volunteer opportunities and organizations through our website, eNews, social media channels, and outreach.
Resources and Trainings: HOSC recognizes we are stronger together and the continuing need for networking, resources, and training opportunities.
Community Partnership year runs through June 2024.
For complete benefit details Download Community Partner Benefits
Download Community Partner Invoice