Celebrating 50 Years of Volunteering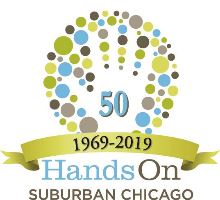 2019 marked HandsOn Suburban Chicago's (HOSC) fiftieth birthday!
We celebrated all year and had YOU to join in the fun. We wouldn't have had a 50th birthday if not for the work and commitment of our volunteers, partner agencies, and donors.
Each month we highlighted a particular event or story about HOSC:
January - Celebrating 50 Years of Volunteering
February - Meet two young people helping at-risk kids, A Volunteer's Story
March - Catching up with Mary Fitzgibbons
April - Meet a Lunch Buddy helping with essential skills
May - Intergenerational Pen Pals-Combine interest with a touch of the unknown, and you have the makings of a great (creative) adventure.
June - It's Our Birthday - See the faces of some of those who have helped HOSC in "connecting people with purpose."
July - Senior Corps-RSVP members respond to the invitation to volunteer
August - AmeriCorps VISTAs - They don't know what can't be done
Sept/October - Annual Community Paint-A-Thon - Volunteers caring about their communities and neighbors
November - November is a time of giving thanks
December - Completing our year-long celebration, Announcing release of our Annual Report
HOSC's 50th Anniversary Fundraiser - Wednesday, April 24th, Arlington Ale House
Thanks to those who sponsored, attended and donated to support HOSC!
Your support of our 50th Anniversary Fundraiser helped us to raise over $12,000
A glance of HOSC through the years