Become a Community Partner!
"Alone we can do so little; together we can do so much." – Helen Keller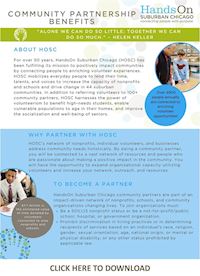 ABOUT HOSC
For over 50 years, HandsOn Suburban Chicago (HOSC) has been fulfilling its mission to positively impact communities by connecting people to enriching volunteer experiences. HOSC mobilizes everyday people to lend their time, talents, and voices to increase the capacity of nonprofits and schools and drive change in 44 suburban communities. In addition to referring volunteers to 100+ community partners, HOSC harnesses the power of volunteerism to benefit high-needs students, enable vulnerable populations to age in their homes, and improve the socialization and well-being of seniors.
WHY PARTNER WITH HOSC
HOSC's network of nonprofits, individual volunteers, and businesses address community needs holistically. By being a community partner, you will be connected to a vast network of resources and people who are passionate about making a positive impact in the community. You will have the opportunity to expand organizational capacity utilizing volunteers and increase your network, outreach, and resources.
TO BECOME A PARTNER
HandsOn Suburban Chicago community partners are part of an impact-driven network of nonprofits, schools, and community organizations changing lives. To join organizations must:
Be a 501(c)3 nonprofit status or be a not-for-profit/public school, hospital, or government organization.
Prohibit discrimination in hiring practices or in determining recipients of services based on an individual's race, religion, gender, sexual orientation, age, national origin, or mental or physical disability, or any other status prohibited by applicable law.
See full benefits of being a Community Partner with HandsOn Suburban Chicago.
COST OF PARTNERSHIP
Our Community Partners enjoy services and benefits at a cost of less than $1 per day.
Full year partnership from July 1 to June 30 each year is $300
Partial year partnership, after December 31, is $200.
READY TO JOIN?
Click here to pay the fee online for a Community Partnership which will run through the end of fiscal year, June 2023.