Community Partner Benefits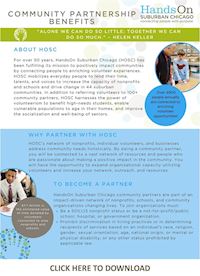 Access to HandsOn Connect: HOSC's proprietary online database where people have access to hundreds of unique volunteer opportunities 24/7/365.
24/7 access to post and manage volunteer opportunities.
Specialized list segments for Virtual, Group, Skills-Based and Court Appointed opportunities.
Expanded recruitment through opportunities automatically posted on Points of Light Engage, the largest online database for volunteer recruitment.
Priority access to corporate and youth group inquiries.
Ability to track your organization's volunteer history.
Support: HOSC staff appreciates the critical need volunteer support provides for community partners and we are here to help.
Provide training, support, and resources for HandsOn Connect and volunteer postings.
Provide personalized support when needed.
Digital Marketing: HOSC promotes volunteer opportunities and organizations through our website, eNews, social media channels, and outreach.
Website: Posts on HOSC's website (HandsOn Connect) include details about each opportunity and the organization. The organization contact receives direct emails about interested people.
eNews: HOSC features opportunities and organizations bimonthly with an audience reach of 8500+
Social Media: HOSC expands outreach through a social media reach to over 5000 combined followers.
Links eNews to social media posts
Outreach: HOSC is active in the community, networking, and continually increases its pipeline. HOSC prioritizes matching community partners to beneficial relationships.
Resources and Trainings: HOSC recognizes we are stronger together and the continuing need for networking, resources, and training opportunities.
Access to complimentary and discounted admission to workshops and trainings from experts in the field.
Access to resources and materials from experts in the field.
Access to a network of peers to utilize for resources, outreach, and support.
For complete benefit details Download Community Partner Benefits